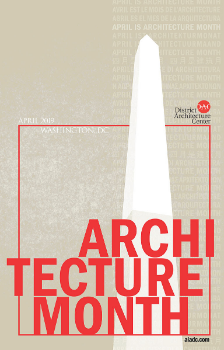 April is Architecture Month
Purchase tickets now for dozens of tours, lectures, and cultural events throughout the month of April, all across Washington.
Thinking of attending multiple events?
Join DAC and benefit from discounted event fees for Architecture Month and throughout the entire year.
All for less than the cost of attending 3 events at the non-member rate!
2019 Architecture Month events:
4/2 2019 AIA|DC Chapter Design Awards Roundtable
4/3 Tour: International Spy Museum
4/3 Lecture: The Evolution of the American City through Multifamily Design w/ Meral Iskir, FAIA
4/4 An Evening of Beer Tasting & Alpine Music at the German-American Heritage Museum
4/4 Tour: St. Augustine's Episcopal Church
4/5 Tour: Chinese Embassy Residence (RSVP by 3/22, 12:00pm)
4/5 Construction Tour: La Cosecha
4/7 Walking Tour: Embassy Row
4/8 Tour: The Whittemore House
4/8 Lecture: Architecture over Architecture w/ Paola Lugli, Int'l Assoc. AIA
4/9 Tour: N Street Village
4/10 Tour: Secret Cities at the National Building Museum
4/10 Lecture: Bespoke Home w/ Paul Masi, partner of Bates Masi+ Architects
4/10 Tour: Murch Elementary School
4/11 Tour: National Law Enforcement Museum
4/12 Tour: Washington National Cathedral
4/12 Concert & Wine Reception at the French Embassy
4/13 Tour: Pier 4 at The Wharf
4/14 Walking Tour: Embassy Row
4/15 Construction Tour: The Highline at Union Market
4/15 Lecture: Designing Beyond Borders by Gensler
4/16 #iseeDC2019 Exhibition Opening
4/16 Tour: Tudor Place Historic House and Garden
4/17 Tour: Clifton Street Apartments
4/18 Tour: Cleveland Park Library
4/19 Tour: Embassy of Italy (RSVP by 4/12, 12:00pm)
4/20 Tour: Washington Fish Market
4/21 Walking Tour: Embassy Row
4/21 Indian Cooking Class, Lunch, & Dessert at Heritage India
4/22 Tour: Mundo Verde Bilingual Public Charter School
4/23 Tour: The Kreeger Museum
4/24 Tour: Legacy West End
4/25 Tour: Washington Alley Project
4/25 Tour: Ronald Reagan Washington National Airport
4/26 - 4/28 Georgetown French Market
4/26 Tour: DC International School and LAMB PCS
4/27 Tour: The Whittemore House
4/28 Walking Tour: Embassy Row
4/29 Lecture: Perugia Blends Past and Future w/ Paola Amodeo of Paola One Design
4/30 Architecture Month Closing Event at John A. Wilson Building
*LUs available for most sessions.
Learn more and register for events at aiadc.com/ArchitectureMonth2019

Last Call for Volunteers
Receive free admission! Contact Scott Clowney for more information.
#ArchMonthDC