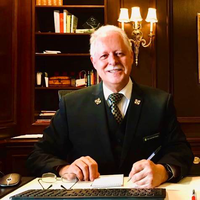 The road to Washington and the wonderful world of the concierge began in Spain. My father was in
the U.S. Air Force and stationed there. He had various tours there and he and my mother retired in
Madrid. Except for two short spells, I spent most of my first 25 years of my life there. In fact, I was
born in Madrid.

I moved to Washington in the spring of 1983. I landed a job as a front desk agent at Lowes L'Enfant
Plaza Hotel. My Spanish and international experience perhaps could be an asset. I learned as much as
I could about Washington, restaurants, and other useful information, doubling as an unofficial
evening and weekend concierge.
In early 1984 I was offered to cover the concierge on the weekends. In the spring, the hotel decided to
put more focus on the concierge services. A full time Les Clefs d'Or member was hired as the head
concierge and I was hired as a full time concierge.
In the summer of 1986, the Willard InterContinental opened after being closed down for almost
eighteen years. I grabbed the opportunity to apply for a concierge position, and almost 34 years later I
am still practicing the art of concierge at the Willard.
One of the first things I did in my capacity as a full time concierge was to join the Washington Area
Concierge Association (WACA), which was in its infancy. That means that I have been a member for 36
years and if I'm not mistaken, the longest continuous member at this time.
Meetings back then were quite small, perhaps 20 or so concierge. Soon after the association grew
when affiliate members joined. In the early years, with smaller numbers, some of the hotels hosting
set up buffets that would rival the best Sunday brunches!

The experiences as a WACA member helped me for the next step in my concierge career, becoming a
member of Les Clefs d'Or, USA, which I have been for 31 years. During that time, Washington hosted
an International Congress in 2006, and two US Congresses, 1995 and 2017. I was treasurer for the
1995 and 2006 congresses, and on the transportation committee in 2017.
Both WACA and Les Clefs d'Or have been instrumental in my development as a concierge.
What do I like to do to escape the rigors of work? I am passionate about soccer. My favorite team is
Atletico de Madrid, a club I got hooked onto when living in Madrid. I follow them to the minute and
make trips to Spain and throughout Europe to follow them when they play. I also follow the local
team D.C. United and have been a season ticket holder since the first season of Major League Soccer
in 1996.
I also love photography and have the Washington area as a great place for photo opportunities.
The Space Program is another passion and for 50 years have made scrapbook albums on events
surrounding space exploration and I'm up to 90 albums! It is important to separate work from play!
---