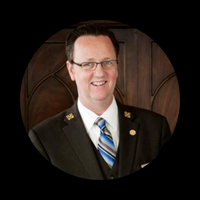 Having grown up in Rockville and Annapolis MD, Eric Gammill moved to Washington DC in 1985. In that time, he has lived in all four quadrants of the amazing city. Currently he and his wife, Jade, reside in the Southwest Waterfront neighborhood near the Wharf. In his free time, he often finds himself shopping at the historic fish market and stopping into all the new restaurants on the Wharf.

Eric started working at The Hay Adams in 1995, 25 years ago. Prior to that, he spent 10 years at Loews L'Enfant Plaza Hotel where he was the Front Office Manager. Eric spent a year at Marriott as Guest Service Director before deciding he was ready for a career change. He had been an amateur potter for many years and decided to open my own studio. He was actually looking into an apprenticeship in Japan when a friend working at The Hay Adams told him that there was a desperate need for staff at the front desk. Eric agreed to help his friend out on a short term basis. Shortly after he started, a position opened at the concierge desk. He quickly fell in love with the work and has been there ever since.

Eric quickly discovered that the position of concierge is more of a lifestyle than a job. When not behind the desk, he spends his free time exploring the city to learn all he can to be the expert that is expected by the guests. That means visiting all the wonderful museums in town and being up to date on exhibits, catching shows at theaters throughout the city, dining in great restaurants around town and developing relationships. He joined the Washington Area Concierge Association and found a great community of professionals there and some amazing unique educational opportunities. After five years, Eric became eligible to join Les Clefs d'Or, the prestigious international association of professional hotel concierges. He was honored to be sponsored by his esteemed colleagues Shujaat Khan and Michael McCleary. Eric proudly wears his keys at the concierge desk and truly values the friendships and experiences he has gained as a member of the Washington Area Concierge Association.
---